Two-year-old child killed in holiday car crash in Devon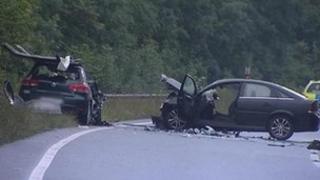 A two-year-old child from the Republic of Ireland has been killed in a two-car crash in Devon which left the child's parents in a critical condition in hospital.
A man, from Torquay, who was in the other car also died. He had been arrested at the scene and taken to hospital.
The family, who were on holiday from Ireland, were driving along Hamelin Way in Torquay when the head-on crash happened at 14:45 BST, police said.
The names of the family have not yet been released. Relatives are being assisted by the Irish Embassy in London.
'Really traumatic'
Police said they were "extremely concerned" about the remaining members of the family.
The driver of a police car witnessed the crash and the matter has been referred to the Independent Police Complaints Commission (IPCC).
Assistant Chief Constable Paul Netherton said the IPCC referral was made "as a matter of course" because the police officer saw the collision.
He said the officer's police car had not been in pursuit of the vehicles.
Mr Netherton said: "This was a really traumatic incident for the emergency services, especially with a young child involved."