Rossnowlagh hosts annual Twelfth of July Orange Order parade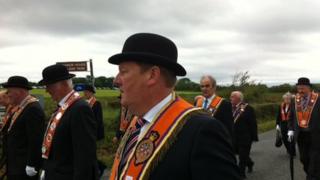 Thousands of Orange Order members have taken part in the annual parade in the County Donegal village of Rossnowlagh.
The march comes before the annual 12 July celebrations in Northern Ireland, marking the 1690 Battle of the Boyne.
Orangemen from Northern Ireland took part, along with visitors from throughout the UK and Canada.
They were joined by lodges from Cavan, Leitrim, Monaghan and the host county, all in the Republic of Ireland.
The demonstration made its way along a one-mile route starting just outside the village, before a religious service at the field.
In the past year, one million euros have been spent refurbishing five Orange Halls. The majority of funding has come from the Irish government.
Grand Master of the Grand Orange Lodge of Ireland, Edward Stevenson, told those present that the Orangemen and women of Donegal, and the rest of the Republic of Ireland, would not be forgotten by the rest of the institution.
"You are key members of this great institution. You have our support and respect," he said.
"This week I was honoured to lead a delegation to visit the Irish Senate in Dublin.
"When our grand secretary Drew Nelson stood to speak on the floor of the Senate it was an historic occasion."
Mr Stevenson said the meeting was only the latest in a "long line" of meetings on behalf of Orangemen in Dublin.
The Orange Order met the Republic's deputy prime minister Eamon Gilmore earlier this year and presented a paper to him on issues affecting Orangemen in the Republic of Ireland.
"Over the past five or six years we have built up strong relationships in the corridors of power in Dublin. We intend to use those relationships to work on your behalf," he said.
"The Orange institution and its members want to play a full role in the civic society of this country. At Grand Lodge level we will do everything we can to make that aim a reality."