Weightlifter fails in bid to sue gym after suffering neck fracture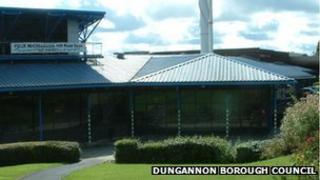 A leisure centre was not to blame for a weightlifter suffering a neck fracture in its fitness suite, a High Court judge has ruled.
Billy Morrow sued Dungannon and South Tyrone Borough Council over the injury sustained as he squat lifted a barbell loaded with 100kg.
He claimed he was given no proper instructions on using the equipment.
Mr Morrow also said he had been 'egged on' to lift weights outside a safe range.
But Mr Justice Gillen dismissed his negligence case after declaring him an experienced lifter who was aware of the risks.
He found it implausible to suggest a fitness instructor encouraged him into a sudden load increase of almost 70%.
The judge said: "It would have amounted to muscular suicide with absolutely no logical reason."
Mr Morrow suffered a spinous process fracture during a weightlifting session at Dungannon leisure centre in January 2010.
At the time of the accident he had been going there up to five times a week, the court heard.
'Very unreliable'
A fitness instructor was with him as a spotter who checks position, technique and remains on standby to offer help.
Mr Morrow alleged he had never received a proper induction in the weights area nor been informed of the risk of injury.
In his judgment Mr Justice Gillen said the council needs to urgently review its policy on written documentation for people using the leisure centre.
But despite identifying inadequacies in the documentation system, he held that it played no role in the accident.
The judge described Mr Morrow as "a very unreliable historian" over his denials that he had ever previously lifted 100kg.
He sided with the fitness instructor's evidence that the plaintiff received advice and an induction.
Mr Justice Gillen pointed out that Mr Morrow had gone to the trouble of buying a weightlifting belt and gloves, and was seeking assistance on nutrition.
He said: "I do not believe him to be a novice in these circumstances.
"He was well aware of the inherent risks in lifting weights which occur without negligence on the part of anyone."
Clearing the fitness instructor and defendants of any blame, the judge said: "I consider that the plaintiff was lifting a weight he was used to in a safe environment which was properly organised with adequate facilities in circumstances where he had been properly instructed and monitored by an experienced and appropriately trained spotter.
"His injury was simply an unfortunate accident in the context of an exercise where the risk of injury is inherent."