First minister welcomes Bombardier China jet order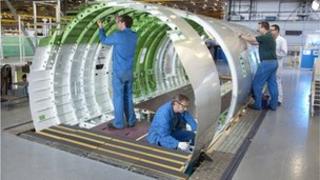 Bombardier Aerospace has confirmed an order for six CRJ900 NextGen regional jets valued at $260m dollars from China Express Airlines.
A second order has also been placed for five CS100 and 10 CS300 jetliners by a different but unidentified customer.
First Minister Peter Robinson said the announcement was a "significant boost to the local economy."
Bombardier is the biggest manufacturing firm in Northern Ireland employing around 5,000 people.
The company recently bought a 29-acre site in Newtownabbey where it plans to consolidate some parts of its operations.
Welcoming the announcement First Minister Peter Robinson said: "Bombardier is one of Northern Ireland's major employers and this announcement is a significant boost to the local economy.
"These orders are a tremendous endorsement of the technological expertise and capability available here and signals the continued success of this multinational corporation."
Enterprise Minister, Arlene Foster said: "Invest NI continues to work closely with Bombardier and other aerospace companies to help them grow and develop and ensure that the sector remains internationally competitive.
"Since the original CSeries investment was announced in 2008, over 60 companies in Northern Ireland have benefited. I am confident that, as the CSeries and Learjet 85 programmes progress, even more locally based firms will benefit from the associated supply chain opportunities."
In June Bombardier announced that they had received the biggest order in the history of private aviation.
That order came from NetJets - a private aviation specialist controlled by investor Warren Buffet. It was for at least 100 Challenger Jets worth $2bn (£1.3bn) minimum and potentially worth $7bn (£4.5bn).