Eurozone crisis impacts on NI house sales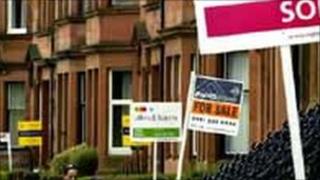 Average house prices in Northern Ireland are still falling, but more houses are being sold according to the latest survey by the Royal Institution of Chartered Surveyors (RICS).
Sixty-six percent of surveyors said the prices had fallen, the rest reported that prices remained the same.
Spring and summer are traditionally the best times for buying and selling.
RICS housing spokesman Tom McClelland said the Eurozone crisis was having an impact.
"Aside from seasonal fluctuations, we saw a familiar pattern in the first half of the year, with prices coming under pressure and modest improvements in terms of sales activity.
"Macro-economic conditions, most notably the eurozone crisis, are having a significant bearing on sentiment and this will likely continue to be the case in the months head. Price pressure and cautious buyers are the new normal."
Derek Wilson of Ulster Bank said: "Home movers and first-time buyers will be continuing to keep a close eye on the market in the second half of the year to be able to make the best decision to suit their individual needs."