Murray's nightmare: Marray's dream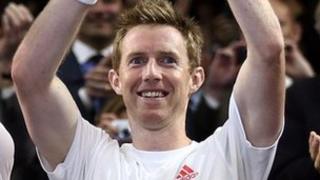 It was a nightmare for Murray but a dream come true for Marray.
As Andy Murray had to content himself with second place in the men's tennis finals at Wimbledon on Sunday, Jonathan Marray volleyed into the history books.
Sheffield-based Marray, 31, became the first Briton to win the men's doubles title for 76 years.
He and Denmark's Frederik Nielsen beat fifth seeds Robert Lindstedt and Horia Tecau.
With Marray every step of the way, was his mother Kath who is originally from Castleblayney, County Monaghan, in the Republic of Ireland.
For the family, it was a dream come true.
For Jonathan, it was so brilliant he could not quite believe it.
"When I woke up I had to check if it was all real. But the trophy is sitting at the end of my bed," Marray said shortly after the win.
His mother, Kath, was watching from the sidelines all through the tournament.
"I couldn't believe it," she said.
"It couldn't have happened to a nicer young man. He worked so hard towards it."
She said her son had good coordination from an early age.
"I always thought he would do something in sport. He was looked at as regards football, but he was small. When he was 10, I took him to the local tennis club and they said he had great potential."
Mrs Marray said a reception was held for him at Sheffield Tennis Club on Monday night.
"We could not believe all the hype about his win."
Now, she hopes that the win will propel her son into the higher echelons of the game, enabling him to increase his earnings.