First minister intervenes in Lennox dog row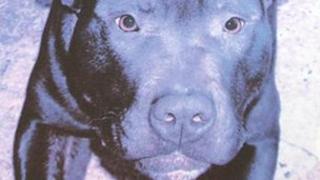 The First Minister of Northern Ireland has intervened in high profile row over a decision to destroy a dog that has been described as dangerous.
Peter Robinson suggested that Lennox, a pit bull-type dog, should be re-homed.
The dog, who could be put down on Wednesday morning after the expiry of a midnight deadline for legal appeals, attracted a global campaign of support.
Staff at Belfast City Council have been the target of intimidation by some supporters.
Campaigners claim to have attracted 200,000 signatures in support of a reprieve and emotions are running high.
One Belfast councillor has received a death threat over Lennox's proposed destruction and workers in Belfast City Council have become the target of a fresh series of intimidating and threatening messages.
Lennox was impounded by Belfast City Council's dog wardens in 2010.
He is owned by a disabled woman whose family insist that he is not dangerous, and while it is not clear exactly what breed he is, pitbulls and dogs like them are illegal in Northern Ireland.
In June, Northern Ireland's most senior judges rejected Caroline Barnes' legal bid to overturn an order for the destruction of her pet.
Two lower courts had already ruled that the dog should be put down.
'Unpredictability'
The dog was seized by Belfast City Council dog wardens in May 2010. He was assessed to be a danger to the public and subsequently ordered to be put down.
A former Metropolitan Police dog handler claimed the dog represented a danger due to his unpredictability.
Ms Barnes, 35, had accepted her pet was a pit-bull type, but claimed there had been a failure to properly consider a possible exemption scheme.
Her battle for Lennox became an international campaign to save his life. It went "viral" on social media websites and attracted tens of thousands of well-wishers.
Well-known people including boxer Lennox Lewis and Mr Robinson were among those who used Twitter to call for the dog to be spared.
"Spoke to Lord Mayor about Lennox. Suggested BCC should seriously look at re-homing option. Why exercise the Order if there's an alternative?" Mr Robinson tweeted.
'Intimidating'
Stormont junior minister Jonathan Bell agreed, tweeting: "Have to say I agree with First Minister re-homing Lennox outside the jurisdiction is best-Why would courts or BCC not be content?"
Boxer Lewis tweeted: "Why is @BelfastCC intent on killing this dog when other options available?"
However, others took the campaign to extremes and Belfast council workers became the focus of intimidation and abuse.
Last year, threatening letters, one drenched in petrol, were put through the letter-boxes of two female dog wardens. Another staff member had her car tyres slashed outside her home.
In a statement released on Tuesday, Belfast City Council said workers had received "a significant number of intimidating and threatening messages in the last number of days".
"The council acknowledges the goodwill on the part of a significant number of people who would wish to have the dog Lennox spared from being humanely put to sleep," the statement said.
"The council has a duty which it performs reluctantly in order to ensure public safety. Re-homing will not deal with the issues in this case - the dog has been found to be unpredictable and dangerous by experts. That view is shared by the courts and the dog is now the subject of an order by the courts."
The council said it would be "reckless and irresponsible" simply to move Lennox to somewhere else where it would pose the same danger to others.