Family appeal for tax on sun cream to be axed to save lives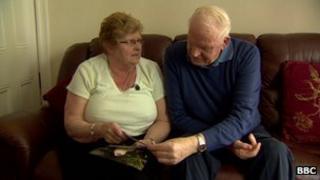 A mother whose daughter died from skin cancer is appealing to the government to remove taxes from sun screen lotions to help save lives.
Helen Lowry died from a malignant melanoma last year at the age of 42.
There has been a 33% increase in the number of people dying from melanoma in Northern Ireland in the past five years.
Sun cream is taxed at the current UK VAT rate of 20% and can cost anything between £2 and £20.
An average bottle costs around £7.99, of which £1.33 would be VAT.
Helen Lowry's mother, Beryl McKee, and her mother-in-law now help raise their grandchildren while Helen's husband continues to work full time.
'She loved the sun'
Mrs McKee, who is from east Belfast, told the BBC the family would never recover from Helen's death.
"Helen was beautiful, she loved life, she loved her children and had a wonderful career," she said.
"There is a terrible hole in our lives now. You never think it will happen to you, but it can - it happened to us."
Helen was diagnosed with a malignant melanoma in 2003. It was during a post-natal check-up that her doctor noticed a mole on her back.
Within 48 hours Helen was admitted to hospital and the mole was removed. It was a malignant melanoma.
"Helen loved the sun - she was a sun-worshipper. But Helen used a very low sun factor and we would all shout at her to cover up. I remember she was burnt on a few occasions. She never thought it would lead to cancer."
Seven years after the melanoma was removed, Helen found a lump under her arm. It was the first visible sign that the cancer was back.
Beryl McKee said the news that her daughter's illness was terminal came as a huge blow to family and friends.
"We knew on New Year's that it was terminal. We thought we might get six to nine months with Helen, but she died less than two months later, in February 2011. The doctor told us that because she was so fit and healthy the cancer just went straight through her."
Now Beryl McKee is calling for the government to remove VAT from the cost of sun tan lotion.
Mrs McKee believes people in Northern Ireland don't apply it because it's too expensive and also they don't believe that the rays from local sunshine are strong.
"We need to have better awareness about skin cancer, and the adverts need to be more hard-hitting.
"Taxes should be removed from the sale of creams to encourage more people to buy them.
"It doesn't take that much to burn and the problem is that sometimes it doesn't show for many years.
"Adults may cover their children but they aren't applying cream to themselves. Many can't afford it.'"
Melanoma is the most dangerous form of skin cancer as it can travel to other parts of the body, making it difficult to treat.
Understandably in hot countries the disease is prevalent. But considering our inclement weather, people in Northern Ireland could be forgiven for believing they're not susceptible at home.
With the increase in melanoma deaths in Northern Ireland, Belfast City Hospital's dermatology clinic is busy.
Iona McCormack, who is a dermatology nurse practitioner, says about 300 people come through the clinic's doors every month.
"I have noticed an alarming increase in the number of people with malignant melanoma, both men and women and of all ages," she said.
"Among my patients are an 81-year-old woman and a man in his 30s."
Regular checks
Iona McCormack trained in Queensland, Australia.
"Australia has among the worst figures for skin cancer, but they are starting to reap the benefits of their sun screen prevention programme."
Eighty per cent of all cancers diagnosed in Australia are cases of skin cancer.
Iona says despite a huge variance in figures, Northern Ireland can learn a lot from Australia.
"The government has removed taxes from the sale of sun screen. All creams are factor 30. You can't go on the beach without protection, even a hat. They take sun screen really seriously and people are paying attention. Their figures are already starting to go down."
Another local statistic is Jackie Johnston from south Belfast. However, the 50-year-old mother of three is a survivor.
In June 2009 a small mark on her leg turned into a huge trauma.
"I would urge everyone to check their bodies regularly, and get others to check your back," she said.
"Don't be afraid to go to your GP over the slightest wee mark. That's what I did and look what happened."
Jackie says the trauma hasn't put her off going on a holiday to the sun.
"We will all cover up, wear sun hats, sun screen and stay out of it between the peak times - we'll just be sensible."