Chef accused of biting a policewoman told to leave city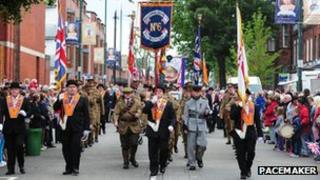 A chef accused of biting a policewoman's leg and spitting at orange band supporters during trouble in east Belfast is to be excluded from the city, a High Court judge has ordered.
Mr Justice McCloskey imposed the ban on James Davey as part of conditions under which he was granted bail.
The judge described his actions as "deplorable."
Mr Davey's prohibition will only be lifted to allow him to go to work at a city centre restaurant.
Mr Davey, 21, from Clandeboye Gardens, Belfast, faces charges connected with disorder following a Somme commemoration parade on 2 July.
He is accused of assault occasioning actual bodily harm, provoking a breach of the peace, and resisting arrest.
Four officers suffered minor injuries as disturbances broke out in the Castlereagh Street, Albertbridge Road and Mountpottinger Road areas.
Bottles, fireworks and other missiles were thrown from crowds gathered after the parade had passed off largely peacefully.
'Disgracefully provocative act'
Eight people were arrested, with some others subsequently charged with rioting offences.
The court heard Mr Davey had been drinking tequila after finishing his work shift and was so drunk he cannot remember what happened.
Kate McKay, prosecuting, said it was alleged that he ran forward and spat at band supporters as the parade passed by.
He was arrested but struggled and bit a police constable on her left thigh, it was claimed.
The officer suffered bruising and swelling around the area of the bite.
Defence barrister John O'Connor stressed that Mr Davey was not accused of any rioting.
"What he specifically said is 'I cannot remember these acts, but if you say I did them I apologise'," Mr O'Connor told the court.
He also set out how his client was from a mixed marriage and had carried the coffin at the recent funeral of his grandfather - a prominent Orangeman.
Mr Justice McCloskey was told he could stay with relatives in Downpatrick to keep him out of Belfast during the marching season.
The judge described the alleged spitting incident as "a disgracefully provocative act".
He added: "An allegation that the applicant bit a lady police officer on the left thigh is another thoroughly deplorable act."
But after recognising Mr Davey's clear record and full-time employment, Mr Justice McCloskey ruled that the available address enabled bail to be granted.
As well as being excluded from Belfast, an alcohol prohibition was also imposed.