Ardoyne Twelfth Orange parade - legal aid sought for judicial review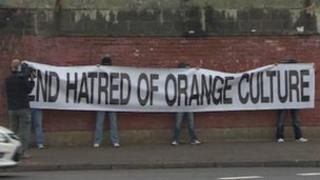 A loyalist from north Belfast has applied for legal aid to challenge a Parades Commission ruling on a contentious Twelfth of July parade.
The Orange Order and its supporters have described as "a recipe for disaster" a ruling that the parade must clear the Ardoyne shops by 16:00 BST.
They say it would be impossible for members of three north Belfast lodges to complete the route by that time.
The individual is seeking to have the decision overturned in the High Court.
Judicial review
It is understood the person, whose identity has not been revealed at this stage, is not a member of the Orange Order or any parades organisation.
If legal aid is granted, papers will be lodged in court on Wednesday morning to seek leave for a judicial review of the decision.
The move is supported by the Orange Order and the North and West Belfast Parades Forum.
The Protestant organisation holds its main Belfast demonstration, which commemorates King William III's 1690 Battle of the Boyne victory over Catholic King James II, at Barnett's Demesne, five miles away from Ardoyne.
In previous years, the parade has passed through the area on its return from the field at about 19:00 BST.
For years, rioting has broken out after the parade.