Street theatre and menu demonstrations planned for Orangefest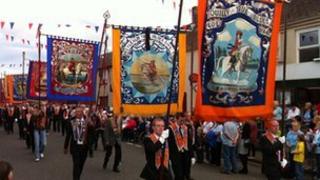 The Orange Order have unveiled details of their 12 July celebrations in Belfast.
Orangefest will showcase aspects of heritage such as Orange Lodges, marching bands, pipes, flutes and lambeg drums.
The festival is an annual celebration of William III's victory at the Battle of the Boyne in 1690.
Organisers says they hope to encourage tourists and locals to enjoy the pageantry and atmosphere.
The Orange Order was founded back in 1795.
The parade will leave Belfast Orange Hall, at Carlisle Circus, at 10:00BST.
The Millar Memorial Flute band will lead the parade as it makes its way along Clifton Street, Donegall Street, Royal Avenue, Castle Junction and Donegall Place to Belfast City Hall.
A wreath laying ceremony will take place at the Cenotaph in the grounds of the City Hall shortly before 10:30BST and the parade will then proceed via Donegall Square West, Bedford Street, Dublin Road, Shaftesbury Square, Bradbury Place, Lisburn Road, Balmoral Avenue and Malone Road to Barnetts Demense.
It is expected that 70 bands will take part in the parade.
As part of the Twelfth of July celebrations, eight artisan companies will be serving local produce in the grounds of Belfast City Hall. There will be a wide range of of produce on offer from locally farmed beef, salmon and a hog roast.
There will be also be a menu demonstration of what first, second and third class passengers ate onboard Titanic.
Entertainment for children in the grounds of the City Hall will be provided as well as performances from Festival of Fools.
Belfast County Grand Master, Tom Haire, said the colour and pageantry of the Twelfth in Northern Ireland's capital city was enjoyed by tens of thousands of people, adding: "We're looking forward to another glorious Twelfth and it's great to welcome so many visitors to Belfast to join with us in our celebrations.
He continued: "Orangefest have been working for several years to enhance the family friendly atmosphere on the Twelfth and this has been extremely successful.
"The Twelfth brings huge crowds into the centre of our capital and we would encourage all the people who come to see the parade, to support the traders and help the economy of the city."
Lord Mayor of Belfast, Alderman Gavin Robinson said: "Orangefest is now appropriately recognised for its potential to bring tourists and visitors into our city.
"This is a celebration of our heritage and culture, and I am delighted to play my part in supporting it."
Andrew Irvine, Belfast City Centre Manager, said: "In terms of visitor numbers the Twelfth of July is simply the largest annual event we have in terms of Belfast city centre. For the fourth consecutive year the city centre shops are open - and providing some fantastic special offers.
"Whether visitors wish to watch the procession, or simply enjoy the shops, Belfast city centre is open for business and has something to offer everyone this Twelfth."