Ilex head Dr Aideen McGinley to leave company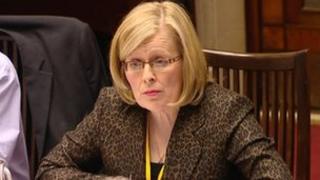 The chief executive of Londonderry's urban regeneration company, Ilex, is to leave the company.
Dr Aideen McGinley said she would leave the job later this year to take up a position with the BBC Trust.
During her time in the role, Ilex played a central role in a number of projects, including delivering the Peace Bridge.
Dr McGinley had been chief executive of Ilex for just under three years.
She took the position in September 2009 on secondment from the civil service where she was permanent secretary to the Department of Employment and Learning.
Her contract was due to terminate this year.
Under her, Ilex played a key role in securing the UK city of culture status for Derry and transformed a disused army barracks into what is now Ebrington Square.
However, she faced tough questions from the Public Accounts Committee at Stormont earlier this year after it emerged her organisation had spent more than £400,000 without proper government approval and paid unauthorised bonuses to a former CEO.
Dr McGinley is to take up the position of BBC trustee for Northern Ireland later this year.
The Interim Chairman of Ilex, Matt McNulty, said Dr McGinley had "campaigned unceasingly" to advance the city's cause.
"Her thinking has enriched every aspect of regeneration.
"She will continue to be an advocate for the city and in helping to achieve all its ambitions."