Ulster Bank branches open on Twelfth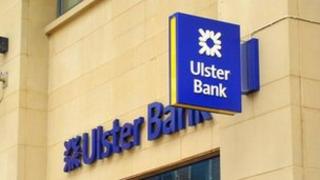 The Ulster Bank has opened 10 branches on Thursday and extending opening hours in 42 branches on Friday to deal with problems caused by a computer failure.
Thousands of Ulster Bank customers across the island of Ireland continue to be affected
It is the first time in the bank's history that branches in Northern Ireland will open on the Twelfth bank holiday.
The Ulster Bank has said it expects services to return to normal by Monday.
Thursday is the 23rd day of the crisis at the Ulster, which started on 19 June.
Problems persist for many customers as they are unable to get accurate statements about how much money they have in their accounts.
The bank said it could not put a figure on how many of its customers in Northern Ireland were still affected by the crisis.
The 10 branches open on 12 July are:
Bangor
Belfast city centre
Coleraine
Cookstown
Lisburn (Bow Street)
Waterside
Newry
Omagh
Andersonstown
Connswater
These will be open from 10:00 BST to 13:00 BST.
Opening hours in 42 of branches will be extended from 09:30 BST to 19:00 on 13 Friday July.
Twenty-six of the bank's Saturday-opening branches will remain open until 15:00 BST.
Main branches will be opened on Sunday 15 July from 10:00 BST to 13:00 BST.
The bank said customers should bring photographic identification and account details (account number and sort code) and a pay-slip if the balance did not reflect any salary payments.