Loyal order oppose gay marriage during Scarva speech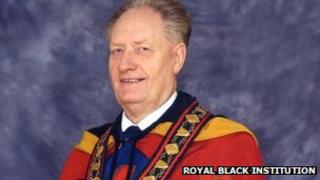 The Sovereign Grand Master of the Royal Black Institution Millar Farr has publicly opposed gay marriage in his speech at the Sham Fight in Scarva.
Mr Farr said such a move "would do untold damage to civilisation as we know it."
He encouraged those at the event to oppose the move.
The annual clash between King William and King James and the procession through the town can attract crowds of up to 100,000 each year
In his speech, Mr Farr said: "We see evidence all around us of the way Christianity is being marginalised and those who dare to practise it are intimidated.
"Secularism is being encouraged, and even championed by those who either seek popularity or want to erode the foundation on which civilisation is built.
"Such individuals have lost all sense of morality. Secularism has nothing of value to offer and if pursued will do untold damage to civilisation as we know it."
Mr Farr said that government assurances that no church would have to conduct a gay wedding if it did not want to would not be possible as they could legally be forced to.
"If weddings are accepted in law and participants are refused a church ceremony, how long will it be before that decision is tested in the European Court.
"If and when that occurs we all know what the ruling will be - the church concerned will be in breach of the law and will undoubtedly be directed to comply with the request to carry out the ceremony.
"Marriage was ordained by God between one man and one woman only, and is for life. Any attack on this, or social engineering with it, is in defiance of God's law."
Opposition
John O'Doherty, director of The Rainbow Project said: "Opposition to marriage equality has no basis. We were told that the introduction of civil partnerships would have a negative impact on families and society. Seven years on these fears have not been realised.
"The fact is that the introduction of marriage equality will not impact on anyone except those who wish to have a same-sex marriage.
"The fear that churches will be forced to carry out same-sex marriages is a smokescreen used to hide the true reason behind opposition to marriage equality. This same argument was used to oppose civil partnerships.
"Same-sex relationships must be recognised as equal under the law. Marriage is not a religious institution, it is a civil one and government should be obligated to ensure equality for all citizens under the law."
The Royal Black Institution is one of the loyal orders and was formed in 1797. Around 100,000 spectators - including several overseas visitors - will cram into the hamlet and its celebrated demesne as the two protagonists and their "armies" re-enact the Battle of the Boyne.
In a separate statement, Tourism Minister Arlene Foster said: "This year offers unprecedented opportunities for tourism and, along with the three flagship Twelfth of July parades in Enniskillen, Carrickfergus and Ballynahinch, the Scarva Sham fight is another important part of our NI2012 offering.
"With 100,000 people expected to attend, this unique spectacle is the single largest one-day tourism event in Northern Ireland and it really has put the beautiful village of Scarva on the map.
"The Royal Black Institution have put together an excellent family-friendly event, which gives tourists from home and abroad an insight into the culture and history of Northern Ireland and I have no doubt that its visitor numbers will continue to grow."