Two men in custody after major PSNI operation against RAAD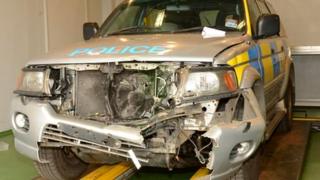 Police are questioning two men after five assault rifles and three handguns were seized in overnight raids in Londonderry.
It was part of a major police operation targeting the vigilante group Republican Action Against Drugs (RAAD).
A third man who was being questioned was released on Friday evening.
PSNI Chief Constable Matt Baggott said the operation was aimed at tackling punishment shootings in Derry.
Police said a total of eight firearms were taken after homes in the city were searched.
Mr Baggott described the seizures as "significant".
The PSNI said officers came under attacks from youths throwing stones and petrol bombs at several locations.
Since 2008, RAAD has murdered one man and shot more than 40 others.
In 2011, Andrew Allen from Derry was shot dead in a house in Buncrana in County Donegal.
RAAD has also warned dozens of young men to leave the city or face being shot.
In June, the armed group said it was behind a bomb attack on the PSNI.
The police in Derry have admitted they have struggled to secure convictions against those involved in the organisation.