Hollywood star Vince Vaughn debuts Belfast mural film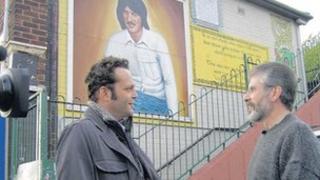 It would be fair to associate actor Vince Vaughn with Hollywood's Sunset Boulevard rather than Belfast's Sandy Row but that's exactly where he has been making his new film.
The star of Dodgeball and Wedding Crashers has been working on a documentary on Belfast's political murals.
Vaughn was even shown some of the murals by Sinn Fein leader Gerry Adams.
Art of Conflict will have its Irish debut on Saturday evening.
Vaughn made the documentary with his film-maker sister Valeri.
The documentary examines the murals which have sprung up across the city and describes them as "a unique form of expression that has given a voice to two groups of people on opposing sides of a centuries-old conflict."
It also looks at the impact, purpose and future of the murals through interviews with the artists, politicians, historians and members of the local community.
Ms Vaughn told the BBC the production went into production almost seven years ago and has been a long time in the making.
"It started years and years ago when my brother Vince passed through Belfast as a tourist and saw the murals. They evoked something in him. He was so inspired by them that he came back telling me all about them and said I just had to see them," she said.
"We spent almost two weeks filming and it was a real learning process for me being part of this documentary.
"Vince took a black taxi tour as a tourist and that is what he wanted the audience to experience. We tried to keep it as real to that as we could. We took the cab through the murals and let them speak for themselves."
The documentary also features interviews with Sinn Fein leader Gerry Adams and former PUP leader David Ervine before his death.
Speaking to the BBC in 2006 shortly before his death, Mr Ervine commented on his part in the documentary.
"We did a spot of filming in Dee Street around a mural depicting people coming to the shipyards," he said.
"I was explaining to him that years ago we would not have a mural like this because it would all have been about politics and our divisions.
"I told him that, for me, the mural was the epitome of the change process that is going on in Northern Ireland. The murals are changing."
Six years after Mr Ervine's interview the murals have continued to change, most recently with a UFF mural on Sandy Row being painted over.
Vince Vaughn admits he didn't know much about the Northern Ireland conflict before making the film.
"I was only vaguely aware of conflict in Ireland. It was something I heard about and thought, 'Oh, that's a shame.' I wasn't particularly informed," he told The Irish Times.
"But because I was intrigued by the art, I started to investigate the murals. And once you ask the question why did they draw this and what does it represent, you learn about something that happened on the Shankill Road 20 years ago or you learn about plastic bullets. I'm still no expert on it by any means, but I know a lot more than I used to."
"I was really moved by the murals. Before that I wasn't even aware that the murals existed. I know they came out of extreme conflict and represent extreme points of view. But I think they're amazing to look at."
Art of Conflict is being shown at the Galway Film Fealdh on 14 July 2012.