Man arrested in RAAD raid in Londonderry is released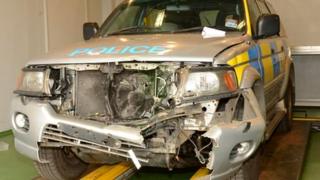 A 47-year-old man who was arrested as part of a police operation targeting the vigilante group Republican Action Against Drugs (RAAD) has been released unconditionally.
A 43-year-old man arrested in the same operation remains in police custody.
The two men were detained after five assault rifles and three handguns were seized in raids in Londonderry on 12 July.
A third man who was being questioned was released on Friday evening.
PSNI Chief Constable Matt Baggott said the operation was aimed at tackling punishment shootings in Derry.
Police said a total of eight firearms were taken after homes in the city were searched.
Mr Baggott described the seizures as "significant".