Old hospital site in Downpatrick 'magnet for vandals'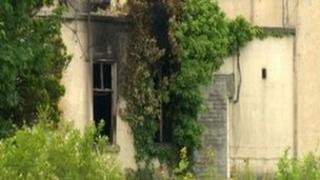 A disused hospital in Downpatrick has become a magnet for vandals, say local people.
There have been three fires at the former Downe hospital site in the past three weeks.
On Friday, fire crews spent several hours extinguishing a blaze when they were called to the site at around 20:00BST.
The hospital and health centre closed several years ago and their services transferred to the new Downe hospital.
Since then, the buildings have become increasingly derelict with collapsed ceilings and broken glass strewn across the site.
Local SDLP councillor, Colin McGrath called on the South Eastern Health Trust to secure the site as a matter of urgency: "I inspected the site on Saturday morning and found local young people playing inside the building.
"This is clearly unacceptable.
"There is a cost to the fire service every time they have to attend and there is also a cost to the Trust every time they have to clear up the damage after each of these fires."
A spokesperson for the South Eastern Health Trust said it is in the process of building a fence to deter vandals.
She added that the Trust is working with the Department of Health to dispose of the site.