Northern Ireland population now stands at 1.81m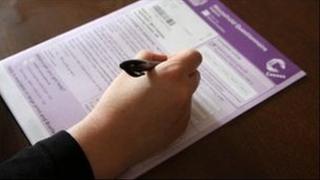 Northern Ireland's population has risen to 1.81m - the highest figure ever - according to the results of last year's census.
The number of people here has increased by 7% per cent over the last decade, broadly in line with the figure for England and Wales.
The figures just out show an increase in the proportion of elderly people and a decrease in the percentage of children under 16.
Females make up 51% of the population.
The numbers of people, aged 85 and over, has increased by 35% since 2001.
The average age is 37, up from 34 in 2001.
The figures also show that households are getting smaller - in 1961, 50% lived in households of five or more, in 2011, only 22% did.
The population results were released by the Northern Ireland Statistics and Research Agency (NISRA).
Significant
Finance Minister Sammy Wilson said: "The census is the single largest statistical exercise conducted by government.
"While it takes considerable time to plan, implement and process, the results will be of great importance in planning the future development of Northern Ireland.
"The census, which is undertaken every 10 years, provides essential statistical information about the population across all of Northern Ireland."
He said the information was used by a variety of organisations including government, businesses and professional research and consultancy bodies.
"This fundamental information will inform a whole range of central government functions and allocation of resources," he said.
"Knowing how many people live in Northern Ireland allows us to work out the types of services that we need to develop in the future.
Further reports will be published in the coming months.