Northern Health Trust admits Causeway Hospital cancer x-ray failure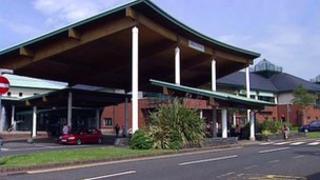 The Northern Health Trust has admitted it failed an elderly cancer patient after an x-ray showing a lesion on his lung was not acted on for nine months.
Alan Kelso, 81, from Garvagh, has been told he has just months left to live.
The x-ray was taken at the Causeway Hospital in Coleraine in July 2011 after he suffered a stroke.
However, it was not until March 2012 that a scan confirming the lesion was a tumour was carried out, BBC Radio Ulster's Nolan Show has revealed.
Mr Kelso suffered a stroke at the start of July 2011, shortly after his 80th birthday.
He spent 12 days at the Causeway Hospital, during which time several tests were carried out before he was discharged.
He went to live with his son Trevor, who was concerned that his father continued to lose weight, and had various follow-up procedures.
In December, during pre-assessment for one procedure, the consultant who had checked Alan's records - including x-rays taken in July - asked Trevor what the hospital was doing about the lesion on his father's right lung.
"I was just shocked, I didn't know what he was talking about, I thought if he's seen it someone else must have seen it," Trevor Kelso said.
The consultant gave him a letter to take to his father's GP.
"She said it mustn't be that important or very serious or they surely would have followed up on it in the hospital," Mr Kelso said.
"It then took from January to March before the scan was done on my father's chest and that showed that there was a tumour on his upper right lung.
"Their words were that someone signed and filed my father's chart without a request for a follow-up CT-scan.
"Their answers are they're unable to read the signature of the person who read the report."
He said this was despite the fact they have copies of everyone who has ever worked there's signature.
In April Mr Kelso's father was told he had six to nine months to live.
"It has got to that stage where it has actually progressed and moved into glands and his chest and there's nothing they can do now," Mr Kelso said.
"So the man's just left in limbo and he's got a death sentence hanging over him."
He said he had been told father's life could have been prolonged if the x-ray had been acted on straight away.
Sean Donaghy, the chief executive of the Northern Health Trust, said there was "a history of error in the case".
"It's a terrible story and one that requires further action from us," he said.
"Our system failed for Mr Kelso.
"There is a process whereby if there is a serious lesion which may be suggestive of cancer or other serious illness, we draw that to the attention of a consultant in charge of that case.
"It's clear that process did not work in Mr Kelso's case."