Belfast Trojans win championship Shamrock Bowl for the first time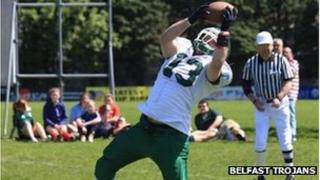 The Belfast Trojans have won their first ever National Championship with a 16-14 victory over the University of Limerick Vikings in Shamrock Bowl XXVI.
The east Belfast American Football team have been playing for six years.
They were formed in 2006 and have been competing in the league since 2007.
The Shamrock Bowl is the championship game of the Irish American Football League (IAFL), the highest level of professional American football in Ireland.
The team lifted the trophy at the Tallaght stadium in Dublin after completing an unbeaten season.
American Football is hugely popular in the United States.
The 2011 Superbowl broke television records and was watched by more than 111m people.
East Belfast Alliance MLA Chris Lyttle thinks the Trojans win could really boost the sport in Northern Ireland.
"I wholeheartedly congratulate everyone involved with the Belfast Trojans on this historic victory," he said.
"The Belfast Trojans have broken records all season and should be proud of this amazing achievement.
"The team is a great advertisement for American football and this win has the potential to boost interest in the sport across Northern Ireland."
Northern Ireland has three teams in the IAFL including the Carrickfergus Knights and the Craigavon Cowboys.
The Trojans are also in the process of developing a junior team for those interested in taking up the sport.