Ex-soldier 'left in limbo' by G4S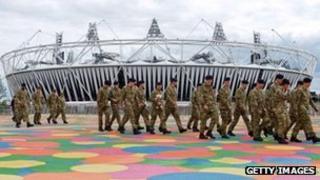 An ex-soldier from Northern Ireland has said he has been stood down by security firm G4S after being told he would start work with them on Monday.
The chief executive of G4S has gone before MPs to explain why his company was unable to provide the Olympics staff it promised.
Nick Buckles has already apologised after 3,500 extra troops had to be deployed to meet the firm's shortfall.
The former NI soldier said he had received no explanation from G4S.
He told Radio Ulster: "Every time we try to ring, the answer we get is the guy's on holiday.
"Why take a holiday when the Olympics start so soon?"
The former soldier, who has experience in close protection work, added: "I'd like to give my skills to the Olympics for what I know and my ability from my ex-military career.
"At the end of the day I just want to go and do the job, bring the money home, put it in the bank but we can't go anywhere with G4S, G4S are just saying no to everybody here now."
He applied for the G4S job along with a colleague who said he had served in Northern Ireland in the past.
He also spoke to Radio Ulster and said he had been "stuck in limbo".
"G4S have said I must hold on to get an email or a phone call to say I'm going to start and where I'm going to start or I'm going to get nothing and be stuck around waiting for eight weeks waiting for a call that never happens," he said.
"I was told that I'd be starting work on Monday - I had a telephone interview with this guy from G4S and the next thing I emailed him and he's now on holiday.
"So I don't know what's going on. If you try to call a different department they don't know what you're talking about because they don't communicate with each other."
In a statement, G4S said they could not comment on individual cases.
They added that a large increase in numbers of staff requested by the London Organising Committee of Olympic Games - up from an original 2,000 in December 2010 to more than five times this number, six months ago - had been extremely challenging, and G4S has encountered some difficulties in progressing applicants through the final stages.