County Down caravan parks sold out of administration for £5m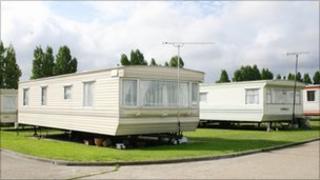 A group of County Down caravan parks have been sold out of administration for £5m.
They are Cloughey holiday village, Windsor holiday park in Groomsport and Ballyhalbert holiday park.
Two park home developments were also included in the deal, one in Ballyhalbert and one at Seahaven near Bangor.
The new owner is the English firm, Lifestyle Living Group, which owns a chain of holiday parks across the UK.
The parks had been owned by Windsor Holiday Parks Ltd and 57 Leisure Parks Ltd which were placed into administration in 2010.
Between them, the two companies owed Ulster Bank almost £11m, meaning the bank will recover less than half of what is owed.
Unsecured creditors, who were owed a combined sum of £12.5m, will receive nothing.
A related property, the Rosetta holiday park at Peebles in the Scottish borders, was sold for £2.65m in October last year. The bank suffered a further shortfall of about £1m on that disposal.
The companies were also closely associated with the Bangor businessman Gavin Logan.
The businesses were placed into administration after related property development companies got into trouble in the property crash.