Northern Ireland unemployment rate rises slightly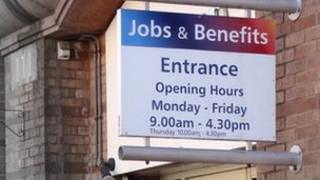 There has been an increase in the Northern Ireland unemployment rate with another 400 people signing on the dole last month.
According to the survey measurement of unemployment, joblessness in Northern Ireland is now running at 6.9%.
This was up slightly on the previous quarter, but remains below the UK average rate of 8.1%.
In June, the number of people claiming unemployment related benefits stood at 62,900.
The percentage claiming jobseekers' allowance in Northern Ireland was higher than the UK average and second highest among the 12 UK regions.
Over the past year the number of people signing on in Northern Ireland has risen by 3,200.