John O'Dowd appoints Shared Education Advisory group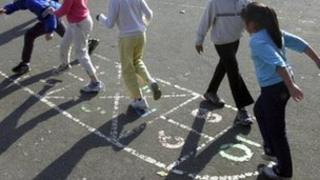 Education Minister John O'Dowd has announced the establishment of a ministerial advisory group to look at shared education.
Prof Paul Connolly from Queens University will chair the group, assisted by former PUP leader Dawn Purvis and former principal PJ O'Grady.
The group will begin work immediately and will engage with organisations and individuals.
It will report its findings to the minister by February 2013.
Announcing the membership of the group, Mr O'Dowd said: "Earlier this month, the education and library boards published plans for the future pattern of post-primary provision in the north.
"Later this year, they will publish plans for the primary sector. This is part of a strategic overhaul of how we provide education services here with the ultimate aim of providing a world-class education for every child.
"There is the scope, and need, for more shared education which will deliver quality education to all children, as well as equality, good relations and community cohesion benefits.
"Shared education has an important role to play and now is an opportune time to debate this across civic society.
"Today marks an important first step in exploring its potential."
Mr O'Dowd said he had asked the members to be "bold and imaginative" in their advice and to put the needs of children and society before those of sectors or institutions.
'Not good enough'
"I am committed to providing all children with an opportunity to experience shared education which I believe has the potential to deliver real educational benefits, to ensure best use of resources and to further community cohesion," he added.
A group which campaigns for integrated education welcomed the announcement, but said providing the opportunity to experience shared education was "not good enough".
Noreen Campbell of the Northern Ireland Council for Integrated Education said they were concerned that the group's brief "appears to be to work within the segregated and divided system which exists".
"If the needs of children are to go before sectors and institutions, then the commitment should be to providing for all a shared education such as that as enjoyed by the 21,000 children in integrated schools," she said.
"The brief of the committee should be to chart how we can advance quickly to that position."