Treasure recovered from Atlantic shipwreck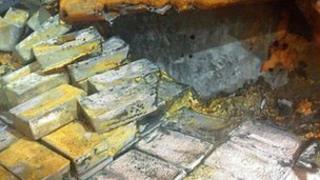 Silver bullion worth millions of pounds has been recovered from a shipwreck three miles beneath the Atlantic Ocean off the Irish coast.
The 1,203 bars of silver, weighing 1.4 million ounces, were recovered from the wreck of the SS Gairsoppa which was torpedoed by a German submarine during World War II.
The 412-foot steel-hulled British cargo steamship had been enlisted by the government's Ministry of War Transport.
The vessel was holed during the U-boat attack in February 1941 and sank 300 miles south-west of the Galway coast as it sailed for India.
Eighty-five British and Indian crew members were on board the merchant ship when it was struck.
As the crew abandoned the stricken vessel, they came under machine-gun fire from the submarine.
The sole survivor, Second Officer R H. Ayres, reached safety after 13 days in a lifeboat.
Odyssey Marine Exploration, the company which recovered the silver earlier this month, said the haul represented about 43% of the Gairsoppa's insured cargo of precious metal.
The silver has been transported to a secure location in the United Kingdom.
The operation by the Florida-based company broke records for the deepest and heaviest recovery of precious metals from a shipwreck.
Insurance on the silver, valued at £325,000 in 1941, was made by the government to the owner, allowing the state to claim any recovered bullion.
Odyssey said insurance company sources believe that silver cargo worth £600,000, in 1941 values, may have been lost that year.
The company now intends to launch a second operation to recover an estimated 600,000 ounces of insured silver believed to be on the wreck of another ship, the SS Mantola, 100 miles from the first wreck.
Both sites were identified last summer.
Odyssey chief executive Gregg Stemm said the Gairsoppa silver recovery, in international waters, was a complex operation.
"Our capacity to conduct precision cuts and successfully complete the surgical removal of bullion from secure areas on the ship demonstrates our capabilities to undertake complicated tasks in the very deep ocean," he said.
"This technology will be applicable to other modern shipwreck projects currently being scheduled as well as our deep ocean mineral exploration activities."