Ambulance 999 recordings highlight pressures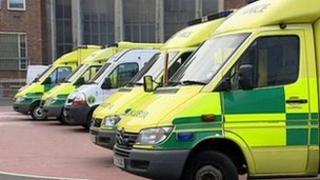 Dialling 999 could be the most important call you ever make.
The Northern Ireland Ambulance Service receives 400 such calls a day at their Regional Emergency Dispatch Centre in Belfast - that equates to 140,000 calls each year.
A team of emergency medical dispatchers are skilled in responding to an array of life and death situations. Every imaginable situation is dealt with, from pregnant mothers in labour to car accidents and horrific crime scenes.
A special BBC Radio Ulster Nolan Show on Thursday looked at the work of the Northern Ireland Ambulance Service, and how it deals with your calls, the pressures it faces as well as some of the happier moments.
It was given access to their archive of real 999 calls from real emergency situations.
In April 2010, Ivan Wallace was forced to call for the ambulance service's help when his wife Winnie collapsed, suffering a cardiac arrest.
This is a brief transcript of Mr Wallace's conversation with his call handler as he was given advice on administering CPR:
Mr Wallace: "Hello, no there's nothing."
Operator: "You didn't feel the air go in and out? OK, tilt her head back a wee bit."
Mr Wallace: "There's an ambulance coming now, there's a breath now, but she's gone, her ear is blue and everything."
Mrs Wallace was treated at the scene by paramedics and, more than two years on, she is doing well.
Mr Wallace admits he would have been lost without the help of the emergency dispatcher.
"I was in a bit of a panic and the reassurance I got from the person, who was on the other end of the line, from the ambulance service sort of calmed me down and got me to do things he told me to do, the CPR," he said.
The centre at Knockbracken opened in 2008 and is the only emergency control room in Northern Ireland, dealing with all emergency calls.
Ambulance Service director of operations Brian McNeill said a team of professional and dedicated staff worked in the control centre.
"Once we have identified where the call is coming from, they're immediately looking for the closest available ambulance or rapid response vehicle and are sending it," he said.
"On some occasions when we get it really right, the crew are on the road and may have arrived while the callers are still on the phone."
Five years ago Lorna suffered a brain aneurysm. The only person with her at the time was her seven-year-old grandson James.
He dialled 999, listened to the instructions on the other end of the phone, and in doing so helped to save his grandmother's life:
Operator: "What's your telephone number?"
James: "I don't know."
Operator: "What's the address?"
James: "It's ....... flats."
Operator: "Where are the flats?"
James: "It's just the first flats."
Operator: "And what's the problem then - tell me exactly what happened?"
James: "She just went to sleep then died."
Operator: "Who died?"
James: "My granny"
Operator: "Now where's your granny now?"
James: "In the bed."
Operator: "Where's your mummy?"
James: ".............. Drive."
Operator: "Is your granny conscious, is she talking now?"
James: "No."
James has been widely praised for his actions on that day and for the composure he displayed despite his young years.
His grandmother Lorna said he, along with the emergency despatcher, had saved her life.
"Had I been on my own that morning I would have been probably found dead. I don't think there's any doubt about that," she said.
The emergency medical dispatchers respond to extreme situations every minute of every day and are often called the unsung heroes of the health service.
In their job, just one second can mean the difference between life and death.