Sean Quinn: The man who transformed economic backwater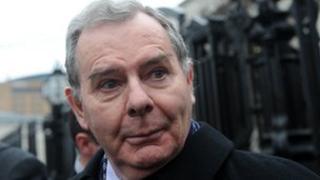 Sean Quinn still inspires fierce loyalty in his home county of Fermanagh.
Throughout his spectacular fall from billionaire to bankrupt, people in the border community have stood by their man, taking to the streets in protest and demonstrating outside his former headquarters.
Many feel Sean Quinn has been made a scapegoat, while bankers have been bailed out and politicians who turned a blind eye to their excesses have wriggled off the hook.
'Economic miracle'
Supporters say his legacy has been the thousands of jobs he created, and the families who depend on his companies for their livelihoods.
Back when Sean Quinn left school at the age of 14, County Fermanagh was an economic backwater.
He borrowed £100 to start a business selling gravel quarried from the family farm.
Many believe that what he achieved over the next 40 years was nothing short of an economic miracle, expanding his business empire from concrete blocks to roof tiles, cement works and glass manufacturing, radiators and insurance.
His interests expanded into global property, and at its height his companies employed more than 8,000 people.
Gerry Burns was chief executive at Fermanagh District Council between 1976 and 1996.
"I don't think anyone can in any way overstate the contribution that Sean Quinn made to this area at that time", he says.
"Sean Quinn produced thousands of jobs, and even though he was a billionaire, he was still just Sean Quinn to everybody."
In the early 1970s there was little industry in Fermanagh and the prospects for those looking for work were limited.
"What (the council) were trying to do was to develop tourism and that was really a mountain that had to be climbed, I mean, we were in the middle of all the Troubles too," says Mr Burns.
Empty roads
"It wasn't the time whenever outside interests would have invested, we couldn't get any investment.
"Sean Quinn really worked as an ordinary guy, working hard to eventually develop the necessary capital to put it in, and he really put it in to this place."
Mr Burns recalls when Prime Minister Margaret Thatcher arrived in County Fermanagh by helicopter and asked why there were so many empty roads in the local countryside.
"These were all the lanes that Sean Quinn had built for the farmers through his concrete works.
"If we had more entrepreneurs like Sean Quinn this country would be top of the world."
At a time when many of those who know Sean Quinn will defend him to the last, others have turned against him and see him as a villain, desperate to keep his family's assets out of the reach of the bank and the Irish taxpayer.
Mr Burns believes part of Sean Quinn's troubles are because he shunned the media and wasn't interested in courting political favour.
"Sean Quinn has never been a man who cultivated the inside track, he was just the ordinary guy."
"He never was one of the establishment - he never got in to the big league, whether it be Dublin or London or anywhere else.
"He was from Enniskillen; he did his best here and was respected by people."
Protesters
This week a small group of protesters has gathered outside the Quinn Manufacturing Group.
The Rynn brothers from County Roscommon manage a quarry and transport company which has supplied material to the cement works for 20 years, but they have been told there is no work for them over the summer.
Peter Rynn said: "When I met Sean Quinn first, we made a deal drawing this Arigna shale and he told me I'd be a very old man before my contract would be up.
"He shook my hand and a handshake to him was as good as anything written down - his handshake was his honour."
When Sean Quinn's empire was stripped from his control by Anglo Irish Bank last year, he vowed he would write a tell-all book.
If his memoirs are indeed ever published, the story of the man who had everything and lost it all will be a sensational read.