Mauritian editor on Michaela photographs charge bailed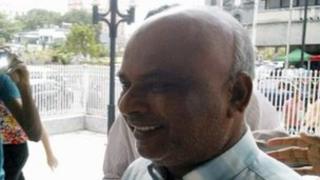 The editor of the Mauritian newspaper that published pictures of Michaela McAreavey's body has been released on bail after spending a night in hospital.
Imran Hosany was appearing on charges related to the publication of the photographs when he fainted in the court in Port Louis, Mauritius.
Mrs McAreavey, 27, from County Tyrone, was killed in her room at the Legends hotel in Mauritius in January 2011.
She was on her honeymoon.
According to the BBC's Yasine Mohabuth, he had to pay 25,000 Mauritian rupees (£500) and furnish a surety of 125,000 Mauritian rupees (£2,500).
The Press Employees Union in Mauritius (USEP) issued a statement in support of Mr Hosany.
"Both the local press and International news agencies regularly show pictures of murder, bloodied demonstrators, corpses of people killed or injured in conflict areas, among others," it said.
"The USEP considers that the treatment suffered by the editor of the Sunday Times in the hands of the Mauritius Police is disproportionate to the offences charged.
"The police treated him as a dangerous criminal".
His barrister said he denied the charges against him.
Mr Hosany, who is the director and editor of the island's Sunday Times newspaper, spent the night in Dr A. G Jeetoo Hospital in Port Louis.
According to his lawyer Yakil Bissessur, Mr Hosany is a cardiac patient with high blood pressure.
Mr Hosany fainted before the court proceedings could get under way, but regained consciousness after more than an hour.
On Wednesday, he was charged with outrage to public and religious morality for publishing photographs of Michaela McAreavey at the murder scene in her hotel room.
The offence carries a punishment of up to a year in jail under Mauritius law.
He is also accused of assaulting an Irish photographer.