Runkerry golf complex row: National Trust board member quits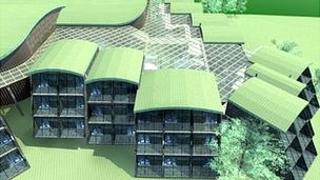 A member of the National Trust's Advisory Board in Northern Ireland has resigned over the Trust seeking a judicial review into the building of a golf complex near the Giants Causeway.
Businessman Peter Dixon quit the board after the Trust announced it would seek a judicial review.
He sat on the Trust's advisory board in a voluntary capacity and was unhappy with the decision.
Mr Dixon is chief executive of Phoenix Gas.
It is understood he supported the development arguing that it would bring much needed income and employment to the north coast.
He contacted the advisory board's chairman and has submitted his resignation in writing.
Impact
The application to build an 18-hole golf course and hotel complex at Runkerry was given the go-ahead in February.
It has been one of Northern Ireland's longest running planning disputes.
The new development, on a 365-acre site, is to be known as Bushmills Dunes Golf Resort and Spa. It is expected to create 360 new jobs.
The National Trust said at the time that it was convinced that "the planning application was contrary to a range of the department's planning policies".
The charity said it it had "consistently opposed the planning application".
Unesco, the UN body in charge of heritage, also said it intends asking its world heritage committee to request the UK government to put a stop to the development until its potential impact has been assessed.
The National Trust's position has been supported by some environmentalists but criticised by a series of politicians.
Environment Minister Alex Attwood said he had examined all issues when giving the project the go-ahead
The North Antrim DUP MP Ian Paisley Jr described as a "disgrace to Northern Ireland" the legal challenge being mounted by the Trust.
Mr Paisley said he feared court action would take two years and the developers would begin looking elsewhere.
The BBC contacted the National Trust about Mr Dixon's resignation but no one was available for comment.
You can follow Stephen Walker on Twitter @StepWalkTV