Michaela McAreavey case: Mauritian PM 'to appoint new police team'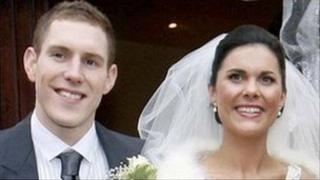 The Mauritian prime minister has told the Irish government that a new police team will be appointed to carry on the Michaela McAreavey investigation.
Dr Navinchandra Ramgoolam made the remarks during a meeting with the Irish Ambassador to Mauritius, according to an Irish government statement.
Dr Ramgoolam met Brendan McMahon in Port Louis on Friday to discuss concerns over the murder investigation.
The Irishwoman was killed while on honeymoon on the island last January.
'Cooperation'
In a statement after Friday's meeting , the Irish deputy prime minister, Eamon Gilmore, said Ambassador McMahon had expressed to Dr Ramgoolam "the concern felt in Ireland at recent events in relation to the investigation and trial of the late Michaela McAreavey".
Last week, two Mauritian hotel workers were found not guilty of her murder following a seven week trial at the island's Supreme Court.
At the weekend, photographs of the crime scene - including pictures of Mrs McAreavey's body - appeared in a Mauritian newspaper.
Mr Gilmore said that during the meeting, Prime Minister Ramgoolam had advised the Irish ambassador that the Mauritian government "deeply regretted and condemned the leaking and publication of the photographs which appeared in the Sunday Times of Mauritius".
The Irish deputy prime minister thanked Dr Ramgoolan "for this response and for the cooperation which we are receiving from the Mauritian authorities".
'Assistance'
The editor of the paper has since been charged with outrage to public and religious morality for publishing the pictures.
Earlier this week, Dr Ramgoolam told BBC Northern Ireland that he would write to police services on both sides of the Irish border to invite them to assist Mauritian detectives in the murder investigation.
In his statement on Friday, Mr Gilmore said the Irish government was "happy to consider any approach from the Mauritian authorities for assistance as the enquiry and investigation proceed".
"We are ready to liaise with the authorities in Northern Ireland, in this regard," he added.