Paisley praises businessman for quitting National Trust board over Runkerry golf resort row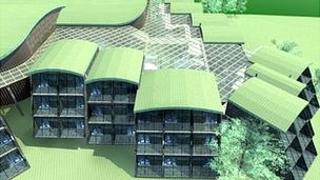 Ian Paisley Junior has expressed his support for a businessman who resigned from the National Trust's Advisory Board over a controversial golf resort.
Businessman Peter Dixon quit the board after the trust announced it would seek a judicial review into the building of a resort near the Giant's Causeway.
Mr Dixon was unhappy with the legal challenge to the planned development.
Mr Paisley, the MP for North Antrim, said Mr Dixon's decision to resign showed "strength of character".
He said it was a "clear indication that a prominent businessman will not allow his name to be associated with such a foolhardy decision by the trust".
Mr Dixon is chief executive of Phoenix Gas and sat on the trust's advisory board in a voluntary capacity.
It is understood he supported the development, arguing it would bring much needed income and employment to the north coast.
The Giant's Causeway is the only Unesco World Heritage Site on the island of Ireland.
The application to build an 18-hole golf course and hotel complex at nearby Runkerry was one of Northern Ireland's longest running planning disputes.
The plan was given the go-ahead in February by Stormont's Environment Minister Alex Attwood and is expected to create 360 new jobs.
The National Trust said at the time that it was convinced that "the planning application was contrary to a range of the department's planning policies".
Unesco, the UN body in charge of heritage, also said it intends asking its world heritage committee to request the UK government to put a stop to the development until its potential impact has been assessed.
The National Trust said: "Although in his letter to the National Trust Mr Dixon did not specify a reason for his resignation, the Trust is aware that he could not support its position relating to the Runkerry Resort development.
"The Trust would like to take this opportunity to thank Mr Dixon for the support and constructive input he provided during his time as a Regional Advisory Board member particularly in relation to the development of new visitor facilities at the Giant's Causeway."