New moves in Michaela McAreavey murder case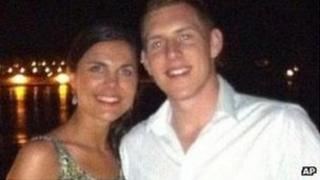 A new police team has been set up to investigate the murder of Michaela McAreavey.
Mrs McAreavey, 27, from County Tyrone, was killed in her room while on honeymoon at the Legends hotel in Mauritius in January 2011.
Earlier this month, two hotel workers were found not guilty of her murder.
The new investigation will be carried out under Superintendent Yaswant Callee of the Central Criminal Investigation Division.
The BBC's Yasine Mohabuth said Superintendent Callee would be assisted by Divisional Inspector Roland Dabeesing of the Anti Drug Smuggling Unit as well as other police officers.
The questioning of persons who were in the immediate proximity of John and Michaela McAreavey's Legends hotel's room shortly before the murder will be one of the first tasks of the new team.
They will also attempt to locate the room's missing electronic card key and examine all DNA samples found at the crime scene.
The new developments followed a meeting between Brendan McMahon, the Irish ambassador to Mauritius, and Prime Minister Dr Navinchandra Ramgoolam on Friday.
The meeting was arranged after photographs of Mrs McAreavey's body and the crime scene were published in a Mauritian newspaper.
The country's foreign affairs minister, Arvin Boolell, who also attended the meeting, has promised that "no stone will be left unturned" until these responsible for Mrs McAreavey's death were found.
"It was a very cordial meeting with the ambassador who told the prime minister of the appreciation of his letter sent to the Irish PM and the communiques of government, especially after the publication of the photos in the press," he said.
"All this said, we need to know the authors of this heinous crime and we will exchange any information possible".