Quiet men of Olympics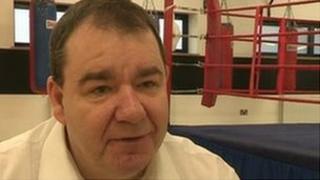 Around 17,000 of the world's best competitors will be taking part in the Olympic Games - but so too are 10,000 coaches, officials and support staff. Three Northern Ireland men have important roles to play at the games.
In the view of his peers, Michael Gallagher is the best boxing referee in his profession.
The man from Omagh was voted World Amateur Boxing Referee of the Year and has officiated over bouts in places as exotic as Baku, Guadalajara, Accra and Seoul - but never at an Olympic Games until now.
He said he is thrilled by the prospect.
"For an athlete, what does he want more out of life? His ambition is to represent his country at the Olympic Games," he said.
'Lifelong ambition'
"I think for an official, regardless of what sport it is, it is the exact same thing.
"My lifelong ambition is to do the Olympic Games. I've done every major event, world championship, European, Commonwealth Games, but I've never done the Olympic Games."
As a hockey umpire at the games, Colin Hutchinson from Cullybackey will have 22 men on the field to keep in order.
If a local game in Mossley is any measure, he will have firm control.
"I have, I suppose, a certain style that's relaxed and that's not everybody's cup of tea. Some people like umpires a lot busier than I am but that maybe helps me fit into a team," Colin said.
"I've worked hard at it over the years. I think that's got a lot to do with it.
"I wouldn't consider myself a natural by any stretch but I've worked at it and I've applied myself to it and I've learned as I've gone along.
"That's held me in good stead.
"It's a different type of environment, the type of players that are there, the speed of the game, how to handle the whole situation of being away from home for two or three weeks.
"I've obviously got the experience of that and I know what to expect in some ways.
"Obviously the pressure will be a different matter as well, I have to worry about that.
"It's a big step but hopefully, I'll cope with it."
For those who fall foul to injury, just a worrying tweak of the hamstring, or even nerves, there's Doctor Phil Glasgow.
'Injury recovery'
He is a top physiotherapist who works at the Sports Institute of Northern Ireland at Jordanstown and has now been selected by Team GB.
With the stakes as high as this, an Olympic Games no less, Dr Phil sees his role as part injury recovery, part counsellor.
"Being able to deal with the Olympics is a unique environment. It's a bit of a goldfish bowl and everything gets magnified more than it would do in other competitions," he said.
"In that sense, helping to add some perspective, helping to treat people, gives some sense of being in control there, and also just assisting people to meet their potential the best you can.
"The treatment space is a very safe space, it's a confidential space obviously.
"It's somewhere where people can go to get away from things without any intrusion.
"Perhaps they know that it's a safe environment and you build a relationship up over time and hopefully that's that's an important role to play."
Phil, Michael and Colin all have vital roles to play at these games. They are just three examples of the 10,000 officials and support staff needed to make the athletes' Olympic dreams a reality.