Claims advice for Ulster Bank and RBS group customers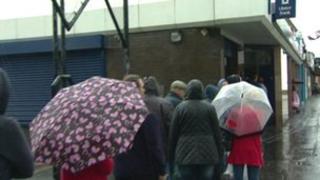 The Financial Ombudsman has published details of what Ulster Bank customers, and others affected by the RBS crisis, may be able to claim compensation for.
Hundreds of thousands of customers within the RBS group were temporarily unable to access their bank accounts after a technical failure last month.
The ombudsman has produced a fact sheet listing the types of loss and expenses for which claims could be considered.
They include extra bank charges, phone calls, loss of trade and legal bills.
Powers
The ombudsman's office said customers' claims could also be considered for indirect losses and expenses, such as losing interest from savings due to a late payment, or having to take time off from work to deal with urgent banking problems.
The Financial Ombudsman Service has official powers to sort out disputes between banks and consumers and holds the authority to order a bank to compensate customers in certain circumstances.
The office said it had received lots of queries about compensation from customers within the RBS group and its role was to "look at the facts, ask questions and decide what's fair in each case".
The problem at RBS followed a failed software update on 19 June.
Ulster Bank customers in Northern Ireland were among the worst affected within the RBS group as it had the longest backlog of transactions to process.
There were queues outside its branches for weeks after the issue had been resolved in Great Britain.
David Cresswell from the Financial Ombudsman Service said the compensation fact sheet was based on calls and queries from concerned customers who contacted BBC Radio Ulster's Talkback programme in the weeks during the crisis.
Stress
"It's really important for people to realise they are going to have to claim things themselves, it won't necessarily happen automatically," he said.
"There are some things that the bank might be able to do automatically, where the bank itself has applied charges to your account but there's so much other stuff - the way in which it impacted on our real life - that unless you make some notes and write it down and actually claim, no-one else is going to know about it", Mr Cresswell explained.
The checklist also advises customers that they can consider submitting a compensation claim for losses that are not financial, including stress or inconvenience
"This could cover things like embarrassment because you couldn't repay the debt you owed to someone", the fact sheet states.
Mr Cresswell admitted that making and processing claims for such matters - putting a value on inconvenience - would be "quite a challenge".
"Two people might have had the same experience, but the impact of it could be very difference depending on who they are and how that actually affected them.
"So we're saying get in touch with the bank and actually tell them what actually happened and tell them what you want them to do as a result of it," he said.
A spokesperson for Ulster Bank said: "We have already started to correct and reverse fees and charges to Ulster Bank customers impacted by this issue.
"We said that we would shortly be announcing details on how we address out of pocket expenses and recognition of inconvenience caused, and we continue to discuss the details of these with our regulators. We will provide further details to our customers as soon as we can."