Warning after sheep rustling at Kilraughts, north Antrim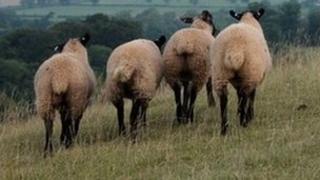 Farmers have been urged to be vigilant after more than 200 sheep were stolen from a field in County Antrim.
It has emerged 75 ewes, 137 lambs and two rams were taken from a farm at Kilraughts near Loughguile earlier this month.
It happened some time between 13 and 17 July. Most of the animals were not tagged.
North Antrim MLA Robin Swann says such thefts have major financial implications for farmers.
"This has to be major organised crime that is now being targeted directly at our rural and farming industry," Mr Swann said.
"For a farmer to face this size of theft of livestock from his own premises will have significant financial pressures on his operational business."
Harry Sinclair of the Ulster Farmers Union, said the theft would have a devastating effect on the farmer's livelihood.
He warned other farmers to take precautions.
"Make sure their stock are well marked to start with," he said.
"Make sure that if anybody sees strange vehicles in the neighbourhood that they report them.
"The police have been involved in neighbourhood watch in some areas."
The stolen sheep were of the Texel, Suffolk and Mule breeds. None of them have been found.
Earlier this year another North Antrim assembly member, the DUP's Paul Frew, said some farmers were organising patrols of their property because of the threat from criminals.
In November of last year, a major conference was held in Ballymena to discuss how to stop thefts from farms in the Larne, Ballymena, Ballymoney, Coleraine and Moyle areas.
Earlier in 2011, it was reported that there had been a 28% rise in thefts from farms in Northern Ireland over the previous two years.
Some stolen vehicles have been recovered as far away as Australia and South Africa.