Missing rapist Edward Connors 'may be in Dublin'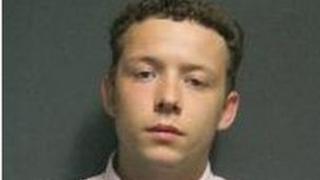 Police have said a convicted rapist who breached the conditions of his probation has crossed the Irish border and may be living in Dublin.
Edward Connors was 15 when he twice raped an American tourist in the Colin Glen Forest in west Belfast four years ago.
He was given an eight-year jail sentence.
Connors, who is now 19, was due to appear at Belfast Magistrates Court earlier this month but did not turn up.
He was to answer a charge of breaching one of the conditions of his probation, in that on two occasions since last month he failed to "complete an individual programme of work to address his sexual offending."
An arrest warrant has been issued for his capture.
Police are particularly keen to speak with the driver of a black BMW bearing the registration SC56 KMX as they believe they may be able to help them with their inquiries.
Police want anyone who knows of Connors' whereabouts to contact police at their nearest station or phone 0845 600 8000.