Average age of bride rises to 32, groom to 34, in Northern Ireland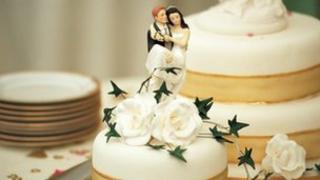 The average age of brides in Northern Ireland has risen to 32 while the average for men getting married is now 34, according to new figures.
The details were released by the Northern Ireland Statistics and Research Agency (NISRA).
NISRA said both brides and grooms are now, on average, five years older than their counterparts two decades ago.
The figures also revealed that one third of all NI weddings were civil ceremonies, an all-time high.
'Changes in society'
NISRA compiles annual statisics on marriage, divorce and civil partnership and its latest provisional figures show that there was a total of 8,400 marriages in Northern Ireland last year.
Of that total, 2,700 were civil, or non-religious, ceremonies.
Dr David Marshall from NISRA said: "The popularity of civil marriage continues to increase - 40 years ago one marriage in every 12 was by civil ceremony, today this stands at one marriage in every three. This reflects the changes in society over this period."
There were also 89 same-sex civil partnerships in Northern Ireland in 2011, the lowest number recorded since 2008.
The agency said the 2011 figure was "a stark contrast" to the 2010 figure when 116 civil partnerships were registered.
The average age of men entering same-sex civil partnership last year was 39 while for women it was 37.
Northern Ireland was the first part of the UK to introduce civil partnerships in December 2005.
Divorce
NISRA also recorded just over 2,300 divorces among couples in Northern Ireland last year.
The agency said the number of divorces peaked in 2007 when 2,900 were recorded but added that the 2011 divorce figure was "around the average level for the last two decades".
The average age at which couples got divorced last year was 46 for men and 44 for women and the average length of a marriage ending in divorce was 18 years.
The agency found that just over 4,000 children and stepchildren were affected by divorce in Northern Ireland in 2011.
It also carries out research on the time of year at which marriage ceremonies take place and found that the most popular day to get married last year was Saturday 27 August.
Just over 100 couples got married in Northern Ireland on that date.