Northern Ireland celebrates 'Love Parks Week'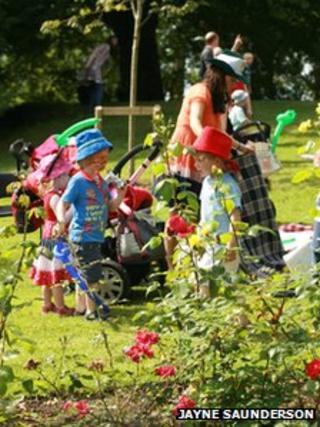 A number of public parks in Northern Ireland are taking part in Love Parks Week a UK-wide celebration of local parks and green spaces.
The campaign is now in its sixth year and the organisers estimate about 1.4m people across the UK will get involved.
Locally, parks in Belfast, Enniskillen, Carrickfergus, Newtownabbey and Whitehead have organised events such as family fun days, exhibitions and races.
This year, the focus is on "access for all to healthy green spaces".
Love Parks Week was founded in 2006 by GreenSpace, UK charity which campaigns to improve park facilities and encourage people to visit and take pride in green spaces in their local areas.
Several parks within the Belfast City Council area organised activities for children and park runs.
In County Antrim, the Lilian Bland Park in Newtownabbey held a bug run on Friday night while Shaftesbury Park in Carrickfergus is to host a touring production of Shakespeare's Romeo and Juliet on Saturday evening.
'Clean air'
In County Fermanagh, more than 1,000 people attended a family fun day at Enniskillen's Forthill Park.
It was organised by Catherine Scott, a development officer at Fermanagh County Museum.
The activities included face painting, hat making, a nature trail, biodiversity games, butterfly conservation, music from the bandstand and a short historic tour of the park.
Ms Scott said: "When the Forthill was formally laid out by Thomas Plunkett in the 1880s, his whole notion was that the people of Enniskillen needed a space away from the smoke of the town, a place for a promenade and to relax, breath in clean air."
The five-and-a-half acre wooded park takes its name from a 1689 star-shaped fort on the site.
Forthill Park is situated on a hill overlooking Enniskillen which was originally known as "Commons Hill" or "cow green" where, centuries ago, people from the town would graze their cattle.
Ms Scott said the family fun day was "a wonderfully successful day" and the organisers had received "great feedback" from the public.
Health check
She said the event built on the success of their Picnic in the Park event at Easter which attracted over 400 people to Forthill.
The organisers of Love Parks Week have also asked members of the public to help them assess the current state of the UK's parks.
They are doing this by encouraging people to give their park a simple health check.
The online survey includes questions about litter and how well the facility is maintained, how accessible it is by foot and how safe people feel when they use their local park.