NIE's credit status could be downgraded by rating agencies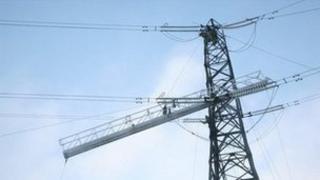 Northern Ireland Electricity's credit rating is at risk of being downgraded because of a row with the utility regulator.
Two ratings agencies - Fitch, and Standard and Poors - have now issued a warning to investors saying that NIE is a more risky investment.
This is because of a disagreement with the regulator over his refusal to allow an increase in electricity prices.
NIE operates the supply grid and claims power lines and poles need upgrading.
'Ageing'
The company is in negotiation with the regulator about how much it can charge customers for improvements to its network.
Oliver Schuh, a director of the ratings agency Fitch, spoke of the downgrade possibility.
"In am reasonably confident that the minus rating, which it has at the moment, wouldn't stay there," he said.
"I am quite confident that if these proposals don't change, then there would be a downgrade."
NIE's managing director, Joe O'Mahony, said much of Northern Ireland's rural electricity network dated back to the 1960s and 70s and would need "substantial investment over the coming years to ensure it is fit for future needs".
"We believe strongly that the utility regulator's final proposals for the next five years should allow NIE to efficiently finance the modernisation of Northern Ireland's ageing electricity infrastructure to improve its future reliability, support economic development and facilitate the NI Assembly's renewable energy targets," he said.
The Utility Regulatory, Shane Lynch, said the regulatory process had not yet concluded but claimed the funding proposals that NIE had submitted to his office "would see prices go up significantly" for customers.
'Fuel poverty'
He told BBC Radio Ulster that his job was both to "make sure NIE has enough money to maintain a reliable and safe network" but also to ensure that NIE customers paid "a reasonable price, but no more than that".
Mr Lynch said he had to bear in mind that levels of fuel poverty in Northern Ireland had reached "almost 50%" and he had a responsibility to protect consumers in "very difficult times of economic recession".
He said that, overall, NIE "have asked for something like £1.1bn" whereas his office was proposing a funding model of just over half that amount, in the region of £600m.
He said the lower amount was "still consistent with the level of investment we've had in the industry and the network over the last five years or so".
The regulator was also asked about claims that his office had made its draft determination on NIE's future funding without one staff member visiting a single site to assess the state of the company's ageing infrastructure.
He said site visits were not "standard practice".
"What you do is you do assessment of the assets based on the data and information that's provided by the company."
Mr Lynch said he had worked in the industry for 27 years and insisted that both he and his team had "a very clear understanding" of the needs of NIE.
Appeal
The regulator also reiterated that his office had not yet reached "a final determination" and would look carefully at all the information submitted as part of a recent consultation on the issue "to see if we can see any evidence that would make us change our mind".
He claimed it was "not untypical for a rating agency to put a company on rating watch negative" during an uncertain price control period and pointed out that Fitch had done the same to other companies in Great Britain.
Mr Lynch also said that if NIE still felt that its funding was inadequate when he makes his final decision it could make an appeal to the Competition Commission.
You can hear more from the Fitch ratings agency and the utility regulator on BBC Northern Ireland's business news podcast