Ex-swim coach Gerard Doyle jailed over sex offences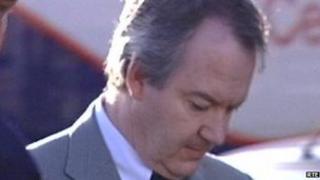 A former national and Olympic swimming coach, convicted of 35 sex-related child offences, has been sentenced to six and half years in prison.
Gerard Doyle, 51, of Emmett Place, County Wexford, had pleaded not guilty to one charge of sexual assault and 34 charges of indecent assault.
The offences took place at New Ross Swimming Pool between January 1981 and December 1993.
The jury returned unanimous guilty verdicts on all charges.
Doyle, who also lived in New Ross, County Wexford, had previously been convicted of the offences at Wexford Circuit Criminal Court and sentenced to six and half years in prison.
A re-trial, which took place at Kilkenny Circuit Criminal Court, was ordered on a legal technicality following an appeal to the High Court.
During sentencing, Judge Alice Doyle said the defendant had failed to express any sorrow for his actions.
"These offences were secretly done and carefully planned for. The complainants were manipulated into accepting what kind of punishment they should receive," she said.
"He assaulted these young boys, breached their trust and that of their families."
Judge Doyle said she would take into account the one year and 20 days which the defendant had already served, which was to be credited off the six-and-a-half year sentence.
Five different people made the complaints against Doyle, with the assaults carried out on boys from aged 10 to 15 years.