Cinemagic teenagers tasked with making film in a week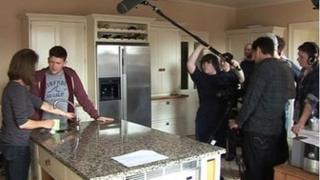 Film-makers have been on location in parts of counties Antrim and Londonderry.
The film they are producing is a short called The Mantle.
The cast and crew come from Northern Ireland, the Republic and the US, and they are all under 18 years old.
The team are all participants in this year's Cinemagic international film camp.
It's the first time the camp has been based outside the greater Belfast area.
Seventeen young people are taking turns to act, direct or shoot the film which must be produced in one week.
One of them, Robert Harvey, said it had been intense but fun.
"We want this to be perfect, we're not just sitting around, we were going over scenes for about three hours last night even after all the shooting," said the teenager from west Belfast.
"We love it so much that we are working ourselves to the bone."
The film tells the story of a young man who is forced to take over the management of his father's farm.
'Lives on forever'
The farmhouse being used is near Castleroe, while other scenes are being filmed near the group's base in Ballycastle.
Of course no film would make it to the big screen without a director - one camper having a go in that role is Los Angeles High School student, Sarah Robinson.
"Cinemagic has a close relationship with my school and I'm part of the music academy there," she said.
"This film will be something I can show my friends, my family, my kids down the line, it's one of those experiences that lives on forever."
Many of the young people are serious about careers in the movie business.
Lara McIvor from Londonderry would like to be an actress, but the camp has allowed her to try her hand in other roles.
"I did some sound (work) and it was really interesting. There is a lot of work in it and it has taught me to appreciate how much there is to it," she said.
Lending a helping hand during the camp is someone who knows a thing or two about the film industry.
Ian Fox has been the director of photography on big budget movies like the Incredible Hulk, Face/Off and the latest Spider-Man release.
"I think the idea is to inspire, to mentor these kids," he said.
"I want to give them the understanding that it's just a bunch of people working together, so I have just been trying to facilitate that."
The finished version of the film will be screened at Cinemagic events in Dublin, Belfast, New York and Los Angeles.