DNA tests in new Michaela McAreavey murder inquiry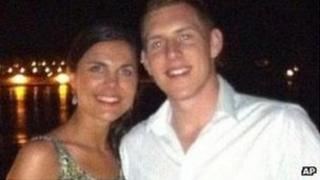 Police in Mauritius have begun DNA testing of hotel staff working on the day Michaela McAreavey was murdered.
Detectives are at the former Legends hotel to collect samples from 216 employees.
These will be compared with traces left at the scene of the honeymoon suite where the 27-year-old from County Tyrone was killed in January 2011.
A new investigation team was set up after two former hotel workers were acquitted of murder earlier this month.
The BBC's Yasine Mohabuth said detectives were also taking fingerprints "for comparison with those found at the scene of crime".
Hotel director Brice Lunot told independent station Radio Plus: "The hotel management is relieved at the decision to reopen the investigation."
Mauritius foreign affairs minister, Arvin Boolell, has promised that "no stone will be left unturned" until these responsible for Mrs McAreavey's death were found.
Former hotel workers Sandip Moneea and Avinash Treebhoowoon were cleared of Mrs McAreavey's killing by a jury at the Supreme Court in the capital Port Louis.