Three Coleraine rowers hoping for gold at London Olympics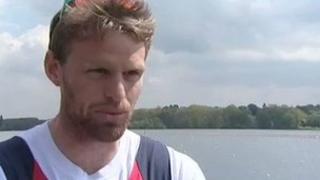 Last Christmas Day, Alan Campbell was up at 07:00 GMT in the morning warming up for his first training session of the day.
The Coleraine rower was running along east strand at Portrush, doing sprints up and down sand dunes.
There was no such thing as a day off for this Olympian.
Speaking at the time, he said that the mental challenge was as difficult as the physical.
"In some ways I gave up a comfortable Christmas, a time when a lot of my competitors would be having a rest and enjoying themselves and having time with their family," he said.
"I had to make an added sacrifice."
Alan is a determined character who pushes himself to the limit in races. He said he has put in many hours of gruelling training for when he competes at the Olympics.
"We have rehearsed every single second because we have done over 10 hours worth of training for every second, so every 36,000 times every stroke has been rehearsed," he added.
"The first 1,500 is all about doing the right thing, but the emotion will come in during the last 500."
Win it
The Olympic hopeful is not the only rower hoping for a gold medal. Brothers Peter and Richard Chambers, who also hail from Coleraine, will race together in the men's lightweight fours at the games.
"Being brothers and racing together is very unique, we can get a lot more out of each other," they said.
"We come as individuals and we both train hard and it's great that both of us are in the same boat.
"We only want to go out there to win. We don't want to come second or third and we really enjoy the whole experience."
It is difficult to imagine the enjoyment, when Alan, who specialises in the 2,000 metres singles sculls event, said every part of him "screams out in pain" during his races.
"The tunnel vision comes down and everything starts to blur, you start to lose the peripheral vision and your legs feel like they have had hot pokers shoved down them," he said.
"You can also taste the iron in your mouth from the blood"
With all the training put in, these Northern Ireland men are now ready and rowing for gold.