Nit combs are 'nothing new'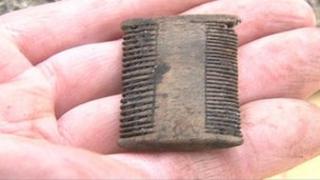 It's official ... even ancient folk needed a nit comb.
A fine tooth comb is among treasures uncovered at an excavation site near Enniskillen, County Fermanagh.
Arrow heads, pottery and ancient human remains have been found at the crannog - a kind of artificial island - that could date back more than 1,000 years.
The site is being cleared to allow for a new road, but archaeologists have been given some time to glean all they can before the bulldozers move in.
"The Cherrymount link crannog was thought initially to date back to the 14th century but now evidence suggests it went back to early medieval times," said archaeologist Declan Hurl.
"We've found human remains. This was a burial elsewhere that had been removed and for some reason brought to this site and re-buried on the crannog.
"Why the body was buried there is one of the many mysteries that remain unsolved including why the crannog was built here in the first place.
"It may have been some sort of seasonal site where people would have gone to catch fish or hunt wild fowl."
The crannog was originally thought to be 700 years old, but fragments of pottery found at the site date from as far back as the ninth century.
Other finds include the bone comb once used by an image conscious lough dweller and a metal blade which is still sharp after hundreds of years.
A leather shoe was found that had been preserved in the earth.
Arrowheads dating from the Bronze Age were also discovered.
"It is always exciting to see a beautifully made artefact," said Mr Hurl.
"Crannogs are quite numerous in Fermanagh but the excavations are like hens' teeth so it is great to be given an opportunity to look at this particular one - It is always an eye opener."
Some archaeologists are concerned about the imminent destruction of the crannog and the lack of opportunity for extensive excavation.
The Institute for Archaeologists has raised a series of questions about the site with the Northern Ireland Environment Agency.
Some archaeologists are asking environment minister Alex Attwood to allow more time than the six weeks plus one week's extension already given for the recording of the site before the road building goes ahead.