£100,000 cost to salvage flood damaged government files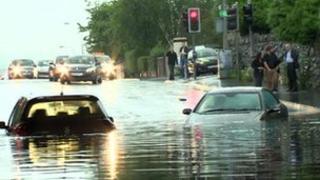 Efforts are under way to salvage thousands of government documents following heavy rainfall in June.
The cost is thought to be in excess of £100,000.
Policy papers and prison service records from the Department of Justice were damaged.
The flooding was caused by a deluge of rain on the day the Queen visited Stormont. More than 1.5in of rain (44mm) fell over Stormont in three hours on 27 June.
Both Massey House and Dundonald House were flooded.
Several hundred civil servants were relocated and are still not back at their desks.
No final figure has been established for the document recovery.
A department spokesman stressed that all files are recoverable as contingency plans were put in place at an early stage.
The process of recovery involves a specialist freezing process that is being carried out by a private company.