IRA bomber Paul Kavanagh's proposed new role creates upset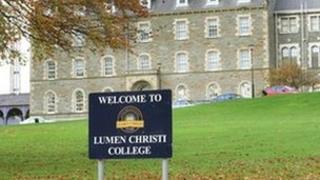 Some parents of pupils at one of Northern Ireland's most successful schools are said to be upset at the proposed appointment of a convicted IRA bomber to its board of governors.
Paul Kavanagh was sentenced to five life terms for blowing up Chelsea Barracks in 1981.
He was put forward by the Department of Education (DE) to sit on the board of Lumen Christi College in Londonderry.
The Belfast Telegraph reported that parents had spoken of their "anger".
The newspaper added that parents had said they were "abhorred" at the plans.
An army bomb disposal officer was killed in the 1981 blast as he dealt with another device at a restaurant in Oxford Street. Kenneth Howorth was posthumously awarded the George Cross.
Mr Kavanagh, who is married to senior Sinn Fein politician Martina Anderson MEP, is a special advisor to Deputy First Minister Martin McGuinness.
A spokeswoman for the department was unable to confirm the appointment.
"Procedures are currently underway to appoint governors to a number of schools, including Lumen Christi College," she said.
"As the appointments process at Lumen Christi has not been completed, appointments cannot be confirmed at this time.
"DE governor appointments to voluntary grammar and grant maintained integrated schools are classified as public appointments.
"John O'Dowd, as minister for education, makes these appointments taking into account the main principles of the code of practice for public appointments."
Significant contribution
Places at Lumen Christi are in high demand in Derry, as it is the highest achieving school in Northern Ireland at GCSE level.
The grammar status of the college is at odds with Sinn Fein's policy of abolishing separate grammar and secondary school admissions criteria.
A Sinn Fein spokesman said Mr Kavanagh had made a significant contribution to his community over many years.
"This has included spending over four years as a governor of a local school in Derry," he said.
"Republican ex-prisoners have played a significant role in the development of the peace process and in community development work within the areas where they live.
"Those involved in this work should be encouraged not demonised."
Two other people were killed by the IRA unit in which Mr Kavanagh was a member.
Nora Field and John Breslin were civilians caught up in the explosion at the headquarters of the Irish Guards, in October 1981.