Man and woman re-arrested after threatening stab victim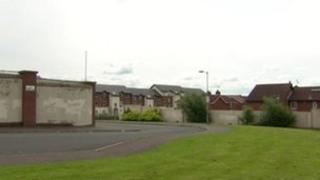 Two people who were granted bail on charges relating to the stabbing of a 23-year-old man in west Belfast, have been re-arrested after the victim claimed they threatened him.
The disclosure was made in the High Court during a bail application by another woman.
She faces a series of charges in connection with the incident.
The victim was attacked at a house in Sliabh Dubh View just before 04:00 BST on Saturday.
It happened during an altercation outside a party at his girlfriend's home.
It was revealed in Belfast High Court on Friday that Lynsey Irvine and Joseph Murphy had been returned to custody on Friday after the victim told police they had threatened him at a petrol station.
Lynsey Irvine, 30, from New Barnsley Crescent is accused of grievous bodily harm with intent.
She is also charged with having an offensive weapon.
Joseph Murphy was released on police bail but had not been charged in connection with the stabbing.
The revelation was made by a prosecution lawyer during a bail hearing for Elaine McNally, from Eliza Street Close in the Markets area of Belfast.
The 32-year-old faces charges of common assault, possession of an offensive weapon, making threats to kill and intimidating a witness.
Police said they feared Ms McNallly would re-offend but Mr Justice Maguire granted her bail.
He ordered her not to have any contact with the victim.
The judge said her two co-accused had had similar conditions imposed on them but had not abided by them.