Smithwick Tribunal: Breen and Buchanan families in call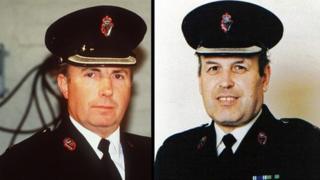 The families of two murdered RUC officers want a full investigation following the revelation of key intelligence documents at a tribunal.
Chief Supt Harry Breen and Supt Bob Buchanan were shot dead in an 1989 IRA ambush in south Armagh.
The Smithwick Tribunal is investigating alleged Garda collusion in the murders.
This week it heard previously undisclosed intelligence that a "Garda officer now retired" gave the IRA information about the officers.
Chief Supt Breen and Supt Buchanan were murdered shortly after leaving Dundalk Garda station.
The collusion allegations have been focused on three former Irish police (Garda) detective sergeants in Dundalk - Owen Corrigan, Leo Colton and Finbarr Hickey.
However, the intelligence material put forward by the Police Service of Northern Ireland earlier this week cited a fourth Garda officer not previously investigated by the tribunal
In a statement, the family of Supt Buchanan welcomed the introduction of the evidence following their initial "dismay and concern that the PSNI had withheld vital intelligence material for up to seven years".
The family said the intelligence material "confirms that collusion involving members of An Garda Siochana did exist" and called on the Garda commissioner to investigate "all members of his organisation who may have colluded" in the murders.
The Buchanan family also appealed to the chief constable of the PSNI to re-visit the unsolved murders, "with an examination of all intelligence and evidence available".
Chief Supt Harry Breen and Supt Bob Buchanan were the most senior RUC officers to be murdered during the Troubles.
In a statement the Breen family said that "from wherever" the intelligence had emerged "it needs to be urgently probed and assessed at this crucial juncture".