First Trust bank to close four sub-offices and a branch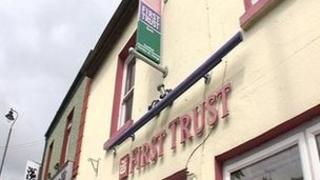 The First Trust bank has announced it will close four sub-offices and one branch in Northern Ireland later this year.
Those affected are Belleek, Ballycastle, Jordanstown, Dromore, in County Tyrone and Shipquay Street, in Londonderry.
The move is part of a wider cost-cutting plan by the AIB group.
It is closing more than 60 branches in the Irish republic.
Allied Irish Bank announced on Friday it will increase mortgage rates in the Irish Republic and will close 67 branches by the end of next year.
In the bank's results for the first half of 2012, the bank said 45 sub-office closures and six branch amalgamations would take place from October.
A further 16 branches, which on average typically carry out 20% of the transaction volumes of other AIB branches are set to close in 2013.
Mortgage rates will also rise from 3% to 3.5% on 3 September.
The bank said the hike was necessary as its current mortgage portfolios were loss-making.
It added that the office closures would not result in compulsory job losses and that staff would be offered employment at other locations.
The bank's provision for bad debts in the first six months of the year was 900m euros, a drop of 70% from the first half of 2011.
It has highlighted the areas where it hopes to save money including 30m euros achieved through pay freezes and pay cuts at senior levels.
AIB also hopes to save 200m euros per annum from its redundancy scheme and expects to meet its minimum target of 2,500 staff reductions by 2014.
Denis O'Callaghan, head of AIB branch banking, said there had been a significant change in the way customers wished to do their banking.
"As a result of this, many of our branches have seen a large decline in customer visits," he said.
"Notwithstanding today's announcement, branches will remain an important part of AIB's overall distribution strategy and will be complemented by an enhanced online service.
"Customers in areas impacted by branch closures will be able to carry out their banking activities through new arrangements put in place in local post offices and through the provision of mobile banks in rural areas."